Imagine moving furniture to the new home, only to discover they don't fit through the front door. Unfortunately, as awful as it sounds, it happens quite often. Moving can be stressful, but easy-to-move furniture and easy transport make everything incredibly easy. Here are the best easy-to-move couches we have identified in the market.
The best part is that they're all easily available on Amazon and require minimal to no assembly. We'll review everything from sleeper sofas that help save on space to plush sectional couches — the hardest part will be you deciding. Buckle up.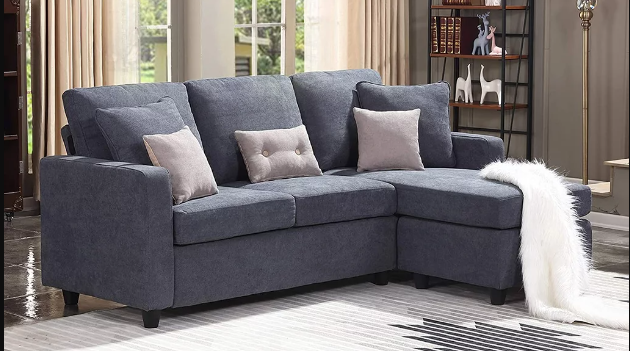 Image Credit: HONBAY
HONBAY is a company known for its lightweight, modular furniture pieces created to expand or shrink depending on your needs. This helps maintain some level of consistency in your home decor.
The HONBAY convertible and reversible L-shaped sectional sofa comes in beautiful linen fabric in three different colors. It has a bottom edge and a fabric pocket on its side to provide the perfect place to hold your remote controls, books, and devices.
Leather options are available if you're not as excited about the fabric option. Each sofa has an ottoman that can open up to provide extra storage. Besides the L-shaped sofa, the reversible and convertible aspect means that you can create a reversible chaise lounge for a versatile space.
This sofa also provides an affordable option if you're working on a tight budget. What's even more reassuring is the fact that it has more than 7,000 positive reviews as a bestseller. We discovered that it also requires minimal assembly, and you won't need to use any tools. At most, it should take 20 minutes or less to set up.
Pros:
Modular couch that's perfect for small living rooms and spaces
Available fabric or leather; in three colors
Nice and firm seat cushions with thick and fluffy back cushions for ample support
Made from sustainable materials
Easily movable light-weight design
Great for value for its cost
Convertible and reversible to suit what's needed in small rooms
Easy and tool-free assembly
Cons:
Relatively small for a family
Image Credit: Novogratz Brittany
If you prefer a futon with a flair for uniqueness, this upholstered linen fabric sofa futon by Novogratz Brittany is worth considering. It has a classy back cushion design with quilted vertical stitches and slanted, oak-colored wooden leg finishes for that pizzazz.
It comes in nine different color options you can choose from. What's more appealing is that this futon comes in an easy fold-out design that reclines all the way to form a bed, ensuring that you get multiple uses out of one sofa. This comes in handy if you're having guests stay over.
The Novogratz Brittany Sofa Futon has a chic midcentury-modern look that's bound to spruce up any space. From the trial, we could determine that this sofa requires minimal setup and no tools.
Pros:
Vibrant, chic midcentury-modern futon that's perfect for any design
Doubles up as a bed
Stylish and durable linen upholstery
Reversible and perfect for small rooms
Easy to pack and movable lightweight design
Easy to assemble and fold
Well cushioned for maximum support
Sturdy and durable wooden frame
Very affordable
Cons:
The colorful and pomp design might be overwhelming for minimalists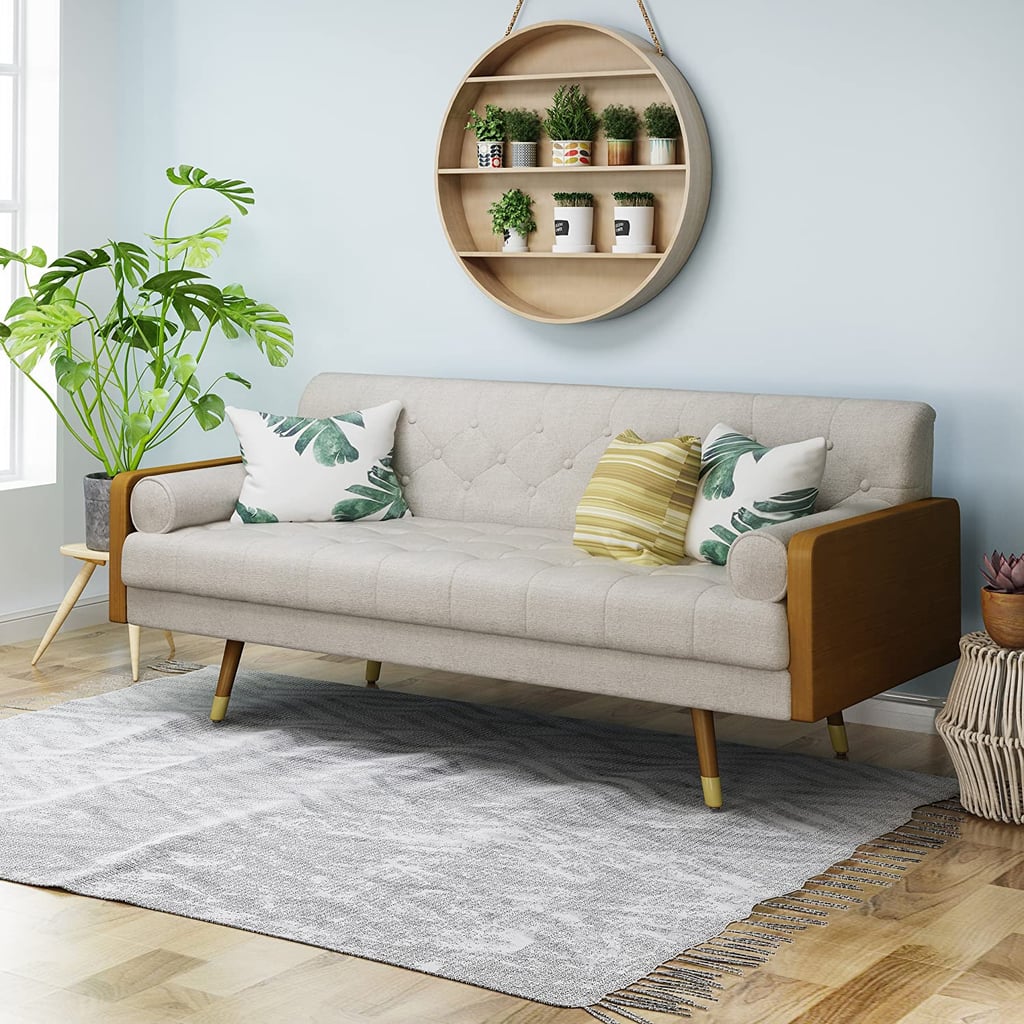 Image Credit: GDFStudio
If you're aiming for a midcentury-modern look for your new home, the GDFStudio Christopher Knight home mid-century couch is a popular, affordable choice. The rolled accent arm pillows, gold-tipped splayed legs, and wood detailing makes this stylish couch a great statement piece.
The back and seat cushions are well cushioned, comfortable, and firm for maximum chair support.
It comes in five different colors, so you have plenty of options to snag your favorite. It requires minimal assembly and is delivered right to your doorstep.
Pros:
Stunning and sturdy wooden frame that offers a mid-century contemporary design
Button tufted and waffle stitching for an extra touch of style
Easily movable and light in weight design
Rolled matching accent pillows for extra comfort and support
Golden tipped splayed rubberwood legs
Comes in five minimalist styles
Needs minimal assembly
Cons:
Although minimal, it requires some level of assembly
Wooden frame design is not ideal for pet owners
Image Credit: VASAGLE
We can never seem to say no to a classic design, and the VASAGLE loveseat is a comfortable couch with breathable linen that'll always be relevant in style. It comes in neutral shades and durable fabric that's perfect for any room.
The breathable linen fabric makes this furniture ideal for hot summer days, which will come in handy in your new space. In addition, its cushions have thick foam padding for comfortable back and bottom support.
The wooden legs give it a subtle mid-century modern look. However, the small size shouldn't dissuade you because it has a maximum seat capacity of 660 lb per seat. In addition, its miniature size gives you the perfect loveseat for small living rooms, offering extra seating area you might need.
The VASAGLE loveseat couch comes in a box and is quite easy to put together. It has a simple plug-in design since all we had to do was insert its backrest and armrests and then attach its legs.
Pros:
Sturdy solid wood frame with a maximum seat capacity of 660 lb per seat
Classic subtle mid-century look
Lightweight miniature size loveseat that's perfect for small living room spaces
Breathable linen fabric that's perfect for hot summer days depending on where you move to
Thick foam padding for maximum comfort
Simple plug-in design with no tools required
Cons:
Image Credit: Acanva
This cool floor-couch silhouette is worth considering if you've caught on with the new wave on all our Instagram feeds. The Acanva velvet sectional four-seater couch comes in a trendy low-profile mid-century silhouette that's sure to elevate your space. The velvety chic cover on this L-shaped couch gives the perfect finish in any living room.
This couch is well tufted for maximum support and comfort. It's also quite spacious and ideal for families as well.
It's a perfect choice for the nomad life since it can be dismantled and arrive at your new home in a box. It can be put back together in less than 10 minutes with no tools required.
Pros:
Trendy chic mid-century design look
Best floor couch for frequent movers
Modular design that comes in two pieces that's ideal for small apartments and spaces
Durable soft velvet upholstery on solid hardwood frame
Low back design that's well padded with high-resilient density foam for maximum support
Cons:
Quite low, making it hard to clean below
Relatively pricey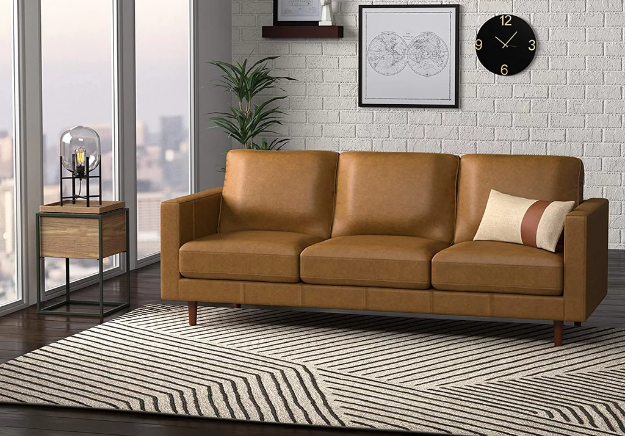 Image Credit: Rivet
The Rivet Revolve modern leather sofa is an ideal choice if you're looking for a great leather couch. The rest of the choices we've discussed have leather options; however, this classic three-seater sofa is a more popular option that comes in durable premium leather for a timeless look.
The leather cover is not ideal for pet owners; however, it's a great pick if you don't have any in your house. The sturdy frame and firm but comfortable padding make it great for lounging once assembled. In addition, it has three colors you can choose from to suit your home decor.
It's so easy to assemble, and no tools are required. This makes it a great pick for anyone who's moving since it can be carried in parts and easily assembled back.
Pros:
Timeless and classic leather design
Well padded for a comfortable
Relatively affordable three-seater leather couch
Perfect size for small rooms
Cons:
Image Credit: Belffin
The Belffin L-shaped modular sectional couch comes with a reversible chaise and ottomans that you can use to extend your seating and storage space. Additionally, this is the best deep sofa for movers and small spaces.
This small yet deep and versatile sofa is perfect if you want to lay down since the movable ottomans can be used to create an L-shape sofa. The ottomans can also be fully opened to provide extra storage which comes in handy in small spaces.
The well-padded armrest and backrest can be adjusted and reclined to any angle to create a supportive bed frame. This is ideal for days when you have company staying over.
The ease of assembly on this deep two-seater will have you fully set up in no time.
Pros:
Movable and convertible ottomans that make it easy to adjust
Convertible design and adjustable armrest/ backrest that can easily create sleep area
Reversible double chaise design that's ideal for small spaces
Ottomans can be opened widely to offer large capacity storage
Easily moved in boxes and assembled
Cons:
Two-seater choice might be too short for families, but you can opt for the three-seater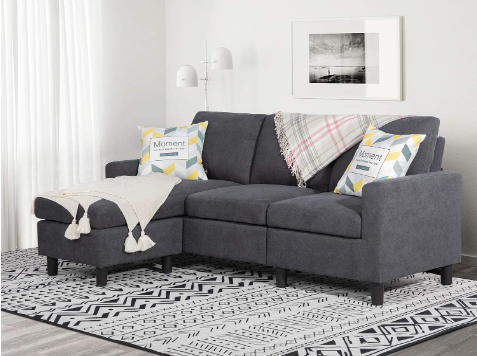 Image Credit: Shintenchi
The Shintenchi convertible sectional couch is an affordable, versatile choice with cool features. For instance, it has velcro on the inside to help ensure that the cushions don't fall off. In addition, the chaise lounge is convertible and works on either side, so it'll always work whether you move to a different space or switch your room around.
The adjustable L-shape on this three-seater can also fit in any small living room corner. So it's perfect if you want to kick back and relax in your new space.
It comes in a sturdy frame with soft padding that's comfortable and supportive. The removable seat cover makes sit easier to clean.
It can be dismantled into parts and arrive in two boxes. This makes it easy to carry and later assemble for set up.
Pros:
Reversible and sectional versatile couch that's ideal for small spaces
Well padded and sturdy metal frame with a 660 lbs weight capacity
L-shape design that can easily fit in corner spaces
Extra wide and spacious chaise lounge
Affordable three-seater durable fabric couch
Available in five colors
Easy assembled
Cons:
Relatively small sectional sofa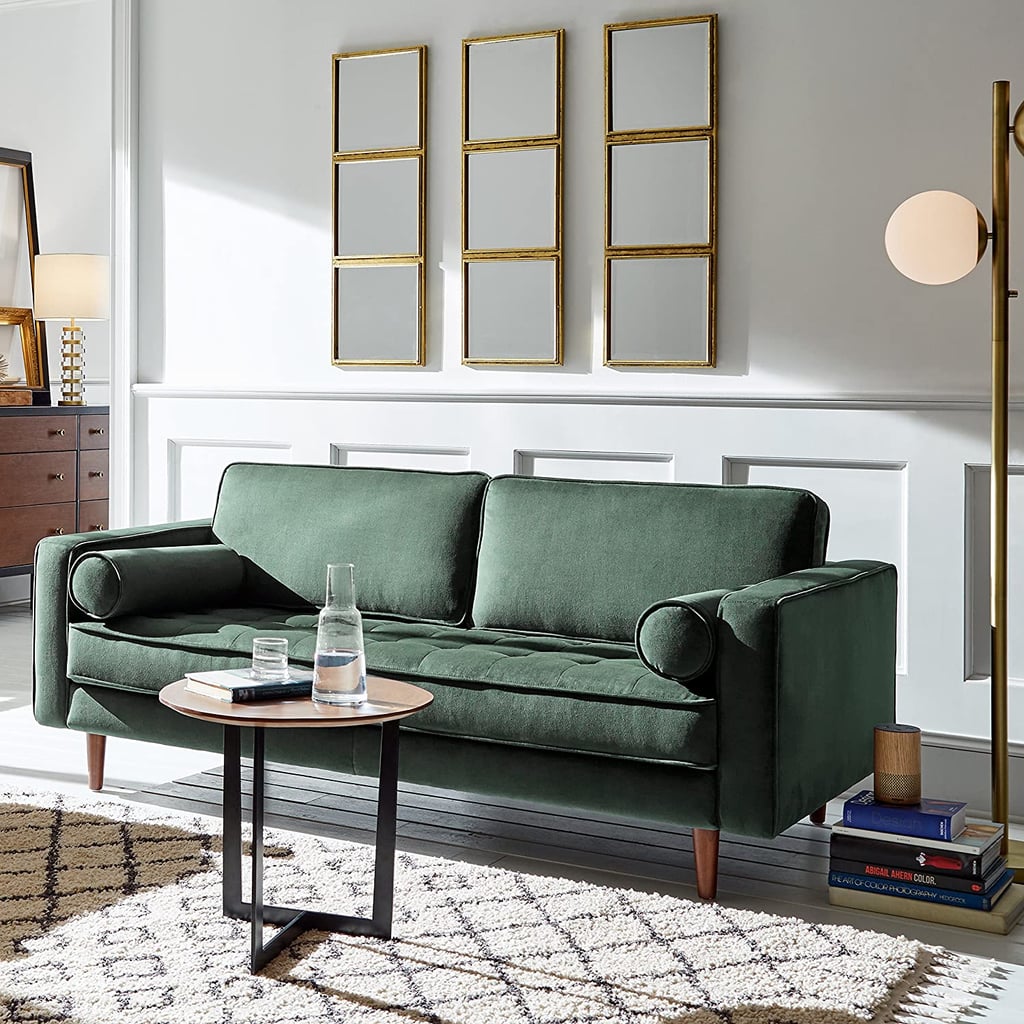 Image Credit: Rivet Aiden
The Rivet Aiden mid-century modern tufted velvet loveseat couch is a worthy contender if you prefer a more stylish decor. It comes in pretty colors, tufted back cushions, and wooden legs for a cool midcentury-modern vibe.
It may not be the most affordable, but it's of great quality and costs less than $1,000. This easily gives you value for money in furniture.
From our trial, we assembled it in less than 15 minutes, making it an ideal choice for movers.
Pros:
Classy mid-century tufted sofa style
Durable and quality make at a great price point
Velvet cover material that can easily be cleaned
Cozy cushions
Extra side pillows for extra comfort
Cons:
Velvet cover material is not ideal for people with little kids or pets
Image Credit: Serta Rane
Serta Rane's collection gives you a stylish and comfortable convertible sofa. This couch can be folded down on its backrest to create an instant bed. This always comes in handy, especially when you're having guests who are spending the night.
Serta is a mattress brand, so you can trust that this convertible sofa is built to give you the best support. It has more than 8000 buyer reviews who rate it as a great couch or movers and for small spaces. Our trial run found that it takes less than 15 minutes to assemble it fully.
Pros:
Stylish, comfortable, and convertible sofa that suits any home decor
Reasonably priced
Well padded using high-density foam for maximum support that won't have you sinking in
Easy to assemble
Made from premium quality polyester and a solid wood frame for durability
Convertible and reclines to a comfortable bed
Cons:
What Makes A Great Couch for Frequent Movers?
Easy-to-move couches share common traits such as being lightweight, having reasonable fits for various living spaces, and being easy to disassemble and assemble. Here are some things you should consider:
A) Quality Construction
Like with any new furniture, quality craftsmanship is an important consideration. Your couch must be made using durable, sturdy material and no snapping hinges, especially if you're going to disassemble and reassemble as you move around. It's also a bonus if it's made of eco-friendly materials.
B) Your Lifestyle
You should consider your current lifestyle as you pick out the right furniture upholstery. For instance, if you have young kids or pets, always go for fabric upholstery that's scratch- and stain-resistant.
C) Budget
Frequent movers should always consider getting the most value from the budget they're willing to work with.
D) Weight Limit Capacity
You need to consider things like, how many people will be using that sofa most of the time or whether you'll have frequent houseguests who'll need to sleep on your folded-out sofas.
E) Furniture Design
Easy-to-move couches are modular or small-to-medium in size to ensure that they properly fit wherever you choose to move to. These couches come in different designs, including fold-out design sofas, futons, etc.
In essence, it should be easy to tow them and settle halfway across the country.
Frequently Asked Questions on Easy-to-move Couches
1. How much do full sleeper sofas weigh?
Although sofa beds can be used as both a bed and sofa, it is primarily a sofa, so on average, they weigh 350 pounds.
2. What are rearrangeable sectional couches?
Sectional rearrangeable couches are expandable, easily adjustable couches that are mostly machine washable and easily cleanable. They are also durable and adaptable, making them ideal for people who frequently move.
Image Credit: Pinterest