Jeans are stylish clothes that you never want to miss in your closet; they come with the prize of taking up much space, especially when you don't fold them correctly. When traveling or moving from one house to another, you need to organize your jeans to save space for the rest of the clothes to fit in.
So you need to know how to fold jeans for packing when moving or even traveling to keep your closet in order. This article discusses tips and pointers to help you fold jeans and pack them like a pro. Read on and learn the alternatives you have in folding jeans while moving.
Tips For Packing Pants/Jeans For Moving
When packing jeans and pants, you need to give extra attention to the folding process to save space, avoid creases or transport them safely. Ensure you start packing earlier to give you more time in the folding process.
1. Separate Your Pants
Separate your pants by rolling and folding them into piles. In rare cases, jeans, workout pants, or even leggings do not wrinkle easily, so you can try rolling your jeans flat before you pack them into a suitcase.
2. Fold Your Formal Pants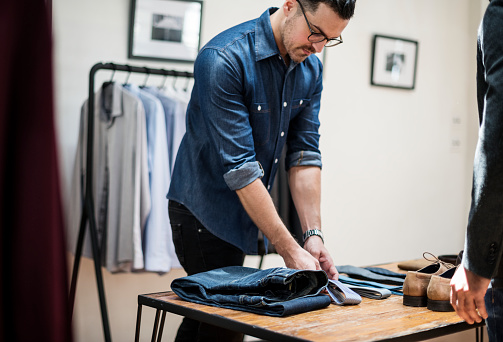 After separating the jeans from the other types of pants, fold your formal pants. Formal pants are made of 100% cotton or non-stretchy fabrics, sometimes called suit pants. They are prone to get creases easily and can only be folded to avoid that. It is best to fold such pants and pack them in a suit bag to prevent them from getting more wrinkles during travel.
3. Iron Your Jeans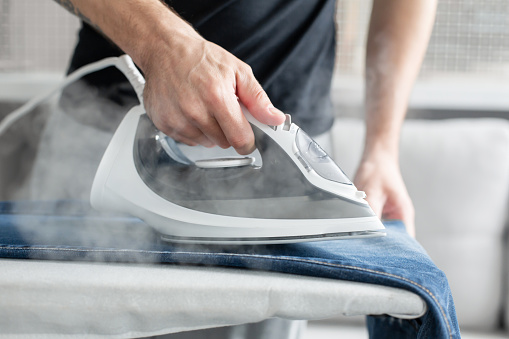 Since packing to move, you need space to accommodate extra clothes. Ironing your jeans will help you roll them easily into small piles. Clothes without creases are more likely to give more room than clothes with creases.
However, it would help if you did not fold your jeans immediately after ironing them. Instead, you can leave them outdoors overnight to cool and pack them later.
4. Button Your Pants
Button your pants before packing them to prevent the hem from bulging or creating bumps in the folds. In addition, buttoned jeans are more likely to create some narrow space to put other jeans when nicely folded.
5. Sort Your Jeans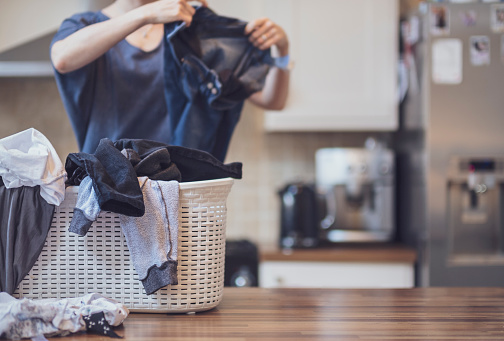 If you like to sort your jeans in a way that you can easily recognize them, you can pack them in terms of labels, logos, or in a way that the pocket embellishments can be easily visible.
6. Fold When The Zipper Is Facing Upwards
If you want to fold your jeans easily, ensure your zipper always faces upwards. It makes the jeans more visible, and you can see where creases are. The zipper will also allow you to fold the jeans to your liking to save on space. You can hang your pants by the waist using a hanger. This will enable you to see the zipper more clearly.
7. Smooth Out The Creases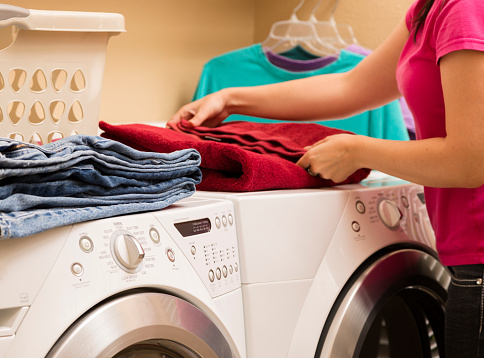 As previously, you need to see if your jeans have creases and smooth them out by ironing them or stretching them on a flat surface. Smoothed jeans help prevent messy creases and wrinkles when you are packing.
8. Fold Jeans On A Flat Surface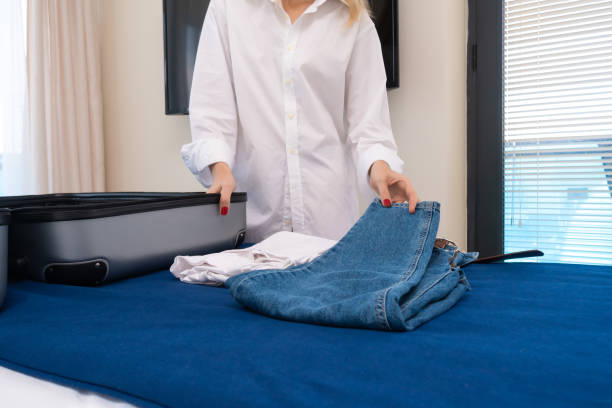 To easily fold pants for packing, find a flat surface that will enable you to stretch out the pants while folding them. Then, when you can easily see all the parts of your pant, you can fold them by giving attention to all corners. However, if you get used to folding jeans, you will master the pattern, and you can fold your pants on your lap like a pro.
9. Use Your Hand To Flatten Your Jeans
If you come across small creases while folding your jeans, you can flatten them using your hands. Brush your hand across the jeans to get rid of wrinkles after folding them. When the jeans are flat, they look nice and ready to be folded and packed.
10. Use Large Packing Cubes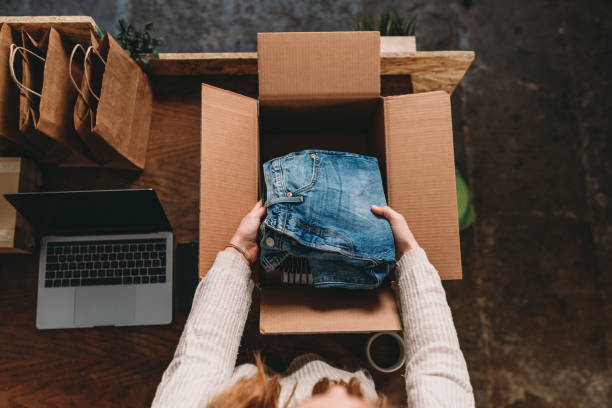 Before you pack jeans into your suitcase, ensure you separate the suitcase space into compartments. You can use large packing cubes to organize and separate the jeans in color, make, and size. Packing cubes are also essential in helping you identify your clothes from others. The cubes act like drawers for your luggage, thus perfect storage for your pants.
How To Fold Jeans For Packing
Now that you have the tips for packing jeans in a suitcase to save space, it is time you know ways to fold your pants. At this point, you will learn different ways to fold your jeans to save on space. These ways include:
Folding your jeans

Rolling Your jeans
1. Folding Your Jeans
1. Lay Your Jeans On A Flat Surace
Lay your jeans on a flat surface, then remove any bumps or bulk by ensuring the pockets are not bunched. You can put your hands in all the pockets and push the pockets in all directions to ensure there is no hindrance or bumps inside the pockets.
If your jeans are flat, fold them into half lengthwise and ensure the front pockets and the back pockets meet. You can use front-to-back direction or vice-versa. If your jeans are wrinkled or have creases, you can iron them first to remove the creases and make them easier for you to fold.
2. Tuck The Crotch Point
After folding the jeans from back to front, the crotch will stick out. You can leave it that way or tuck it inside the legs. Tucking the crotch adds a bit of bulk to the fold and makes all the jeans uniform for stacking. It also prevents the crotch area from getting wrinkled.
3. Fold The Jeans
You can choose to fold your jeans in quarters or thirds. To fold your jeans in quarters, fold them in half by bringing the hem at the bottom up where the waistband is. Then, fold the jeans into half again and complete the fold.
To fold in thirds, you can fold the jeans two-thirds of the way up the jeans legs. Then, finish by folding the waistband down over there the top.
2. Folding By Rolling
1. Remove Your Jeans For Rolling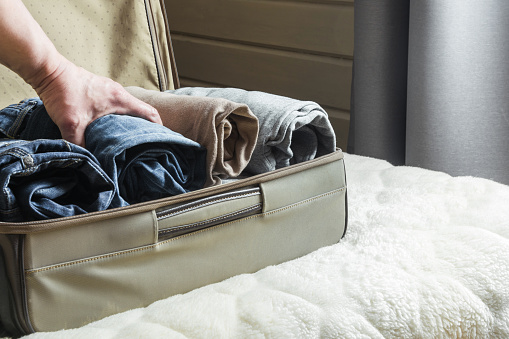 Jeans pants are the perfect materials you can fold by rolling since they do not wrinkle easily. Rolling is the best method to pack jeans that have few creases. You can opt for the rolling method if you are looking to save space while moving or traveling. Apart from jeans, you can roll leggings and workout pants.
2. Place The Jeans On A Flat Surface
You can opt for ironing if you want your jeans to be wrinkle-free. Lay them on a flat surface and straighten them using your hand. Smooth out the edges from any wrinkles and creases.
3. Fold The Jeans In Half Lengthwise
Fold one leg on top of the other to reach half the length of the jeans. You can use your hands to smooth out the wrinkles while ensuring the jeans do not have any lumps in all the locations.
4. Roll The Jeans From The Waist
Start rolling your jeans down from the waist using your fingertips like a sleeping bag. Continue rolling until you reach the cuffs. At this point, your jeans will be completely rolled, and you can stack them for packing.
Always ensure that you smooth out the wrinkles while rolling your pants to eliminate creases. To avoid creases, roll your jeans loosely instead of firmly.
Alternatives Ways To Fold Jeans For Packing
If you don't prefer a folding or rolling your jeans while packing, there are other alternatives you can explore. They include the following:
1. Rolling Army/Ranger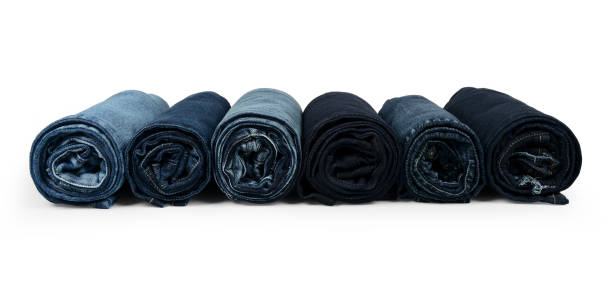 The range roll or army roll is a folding technique used by troops or army personnel to fold their jeans quickly. To save space, you can use this method to fold all your clothing while moving. This method keeps your clothes intact while moving, so they do not unravel when the luggage is thrown and turned. The step-by-step guide procedure suggests that:
1. You zip up and button your pants.
2. Reveal your pockets by turning the top half inside out a few inches. Then, insert the pockets back into the jeans' body.
3. Fold the sides of the jeans legs inside and start rolling the jeans.
4. Keep rolling until you reach the top of your jeans.
5. Secure the slack at the top by wrapping it tightly around the roll.
2. Packing Using The KonMari System
You can use the KonMari system to pack jeans and other clothing while moving. The only difference between this method and others is that you fold your jeans upright instead of laying them horizontally. Follow the steps below to learn how you can fold jeans for packing using this method:
1. Lay your pants flat, then fold them in half horizontally.
2. Bring the top of the jeans down to the feet, then bring the cuffs up to the belt. If your jeans are narrow, you can leave an inch of the room every time you fold using this method.
3. When folding your jeans in half, you can bring them close to the top. Then, fold the jeans inward until the jeans are upright.
Now you know some methods that will make folding jeans while moving easier. It is a matter of time until you start exploring one of these folding styles!