Mobile homes stand out from the ordinary since they give you the freedom to be moved one day. Some may think that moving a mobile home is easy because of the term "mobile," and all they need to do is hitch them to a truck and pull the home on the road. However, mobile moving is not as easy as it seems, and there is a whole process behind it.
The moving process involves permits, deconstruction, and finding appropriate transportation. However, many people successfully move their manufactured homes every year, and as long as you undertake the proper research, you can easily do it too.
Once you start thinking about mobile home relocation, it can easily get you overwhelmed between safety regulations and zoning laws. Therefore, if you are asking how to move a mobile home to another location and don't know where to start, read on!
Can Your Mobile Home be Moved?
Image Credit: mainemobilehomemovers.com
When considering a manufactured home relocation, you will need to determine whether your mobile home can handle the harshness of a move. The answer is if your mobile home is sound and movable according to the state, federal and local laws.
Older prefabricated homes are frequently inappropriate for moving for several reasons, including age and structural problems brought on by water, termites, or accident damage. However, in most cases, you'll need to rely on experienced mobile home movers to make this choice.
Image Credit: otosection.com
However, because of a National Department of Housing and Urban Development (HUD) law, if your mobile home was built before 1976, it probably can't even handle a local move.
In addition, it's not cheap, but the cost of moving mobile homes is more affordable than purchasing a new home. Notably, the cost of a mobile home varies from one manufactured home to another.
Lastly, the cost of moving a single-wide mobile home will be different from the cost of moving a double-wide home.
What are the Basics of Moving a Mobile Home?
Image Credit: floridatoday.com
The process of mobile home transport has many moving parts, and it's not a case of attaching it to a truck and moving it away. However, before you start moving, there are basic aspects you should be aware of:
First of all, it's unlikely that you will be able to transport it on its whole. Only houses completely fitted onto licensed trailers can be transported intact. These are single-wide homes. On the other hand, most double-wide and larger homes will need to be separated into individual parts and transported one at a time.
Second, the house must be able to withstand the move without damage. Therefore, the mobile home must still be in fine shape for this. The inability to move many older homes is due to this. But, again, you can assess this with the help of inspectors, and professional movers will have. 
What are the Steps for Moving your Mobile Home to a New Location?
Image Credit: blogshd.com
To prepare your house for the relocation, you have a lot of tasks you need to complete. Your movers will be in charge of handling much of this process, and they will support you while you disassemble the parts and raise the house off the ground.
Check your lease terms if you live in one of the mobile home communities. Many mobile home parks need a thirty-day moving notice from their residents and might also have additional requirements.
1. Turn Off all Utilities
This includes gas, electricity, and water. To arrange for the disconnection of your gas and electric lines, notify your utility suppliers well before your move.
Monitoring the disconnect is a good idea to ensure that your service providers take precautions to avoid harming the track that supports the bottom of your home.
Additionally, get in touch with the local utility providers to apply before the deadlines pass so you won't be without electricity or water.
2. Disconnect all Lines
Ensure all lines have been disconnected, including the telephone, cable, and television.
3. Protect your Pipes
If you are moving a mobile home during winter, you should protect your pipes with a winter seal.
4. Remove Valued Items from your Mobile Home
Image Credit: pinterest.com
If nothing is fixed firmly to the floor, the movement will cause everything within the house to tumble around. Therefore, you should remove all the heavy furniture and other unsecured objects from the home and remove fragile and breakable objects to be safe.
5. Remove Exterior Attachments
Remove any exterior attachments because high winds can blow off these attachments when you are moving mobile homes. So, if your mobile home has decorative hanging, awnings, or a porch, it should be removed and stored in the house if it has space.
6. Secure the Exterior of your Mobile Home
One thing you must do is seal off any openings to your home using bolts. You must lock all doors, windows, and shutters to prevent them from flying open on the road. The external skirtings and trim could sustain damage when traveling, so removing them is preferable.
7. Prepare the New Location
Image Credit: claytonhomes.com
You must also prepare the new location before moving your mobile home there. First, visit the location to determine what needs to be changed. 
It must be in great condition to park the house in its current condition. There are some things you will need to address:
a). Check the Foundation
Creating a new foundation is an important factor. The house should be easy for the movers to remove from the trailer or truck and set it down straight on the building. 
Slabs and blocks are the two main categories. If you're unsure of your alternatives, the many types of HUD-approved foundations are covered in further detail.
b). Ensure the Ground is Leveled
Image Credit: braustinhomes.com
Ensure the new site ground is level so you can park the mobile home. This is needed to keep the building's structural integrity which can involve adding new dirt to fill in any gaps, among other things. 
c). The Lot
The manufactured home needs adequate room on the land to be placed there. You must clean the area of the ground where you intend to place it.
Cut down trees, shift rocks and stones, and remove any other obstacles.
d). Extras
Performing a little extra work on the lot to improve its aesthetic appeal before you arrive is an optional step. You could start a garden and do some landscaping, for instance. 
8. Employ a Moving Company
To move your mobile home, you will need to hire professional movers to move your manufactured home effectively. A suitable moving company should have a license for the company to move the manufactured homes legally.
These companies have trained experts who know all the ins and outs of relocating mobile homes. They should offer services for preparing, moving the property, and helping to set up your manufactured home in the new location.
Most professionals will help you in the deconstruction process, so hiring professionals is necessary to prevent unnecessary damage.
What are the Steps to Getting the Best Moving Company?
Image Credit: heavyequipmentshipper.com
Selecting a reputable moving company might be challenging. First, you must separate the bad mobile home movers from the good.
Below are the essential steps to take when hiring the right mobile home moving company:
1. List Options
Enlist licensed mobile home moving companies that hold licenses. Asking local mobile home parks and dealerships for the contact information of authorized companies they have worked with is a good idea. 
The internet is a good resource to use at all times when searching for professional mobile home movers. To help in your decision-making, compare businesses based on the following criteria. 
2. Referrals
Ask for recommendations from past clients for further information about the movers' services. This helps you confirm they are competent and won't mistreat or damage your stuff.   
You can learn more about a company's driving record and accident history if it holds a license from the Department of Transportation.
To get some additional assurance, you may always look for online reviews.
3. Insurance
Image Credit: miliganhousemovers.com
Throughout this process, a lot can go wrong. So what steps should you take to be ready for problems?
To start with, ask about the insurance plans the company has. This will safeguard the business and yourself in case of an accident, where the moving company must have sufficient coverage.
Even if they are an insured professional moving company, you should most likely review your own regulations. Confirm if the house is protected while transported; check with your provider.
4. Quotes
Don't just hire the first mobile home moving company you come across. Requesting quotes from various movers is a great place to start. Ensure there are no later surprises by carefully reviewing the services included in this payment.
Are there Benefits of Employing a Mobile Home Moving Company?
Image Credit: connect2local.com
When moving manufactured homes to a new location, it's advisable to use mobile home movers. Some of these benefits of moving companies include:
1. They are Licensed/Insured/Bonded
Professional moving companies usually have protections in place if something goes wrong. However, numerous potential unexpected complications exist when a home is connected and transported on the road.
Trees with low-hanging branches, road construction, heavy traffic, sharp curves, or low bridges can cause problems.
Any of these scenarios could cause expensive harm or even injury. So once your house starts moving, you want the expert with the usual safeguards to be in charge of any potential problems.
2. Protect Your Investment
Image Credit: dhm-inc.com
Investing in a safe way of moving your home is crucial, so paying a small amount upfront, whether moving a single-wide or double-wide mobile home for a short or long distance.
In addition, moving companies help you avoid larger bills if your home is damaged and you don't have mobile home insurance.
3. Inspection
Most mobile home movers hire someone or conduct the inspections where the home needs to be in the best shape for traveling. The interior features of the home should be stable, and a trained professional mover will be able to identify if there are any adjustments or fixings needed.
4. The Company can Carry Large Loads
A 60-foot home is not something that many people feel comfortable towing behind them as they drive down the road. An experienced truck driver will understand the spatial relationships necessary to ensure the house is moved without damage.
What are the Biggest Mistakes Owners Do When Moving their Mobile Homes?
Image Credit: cappaerthousing.com
1. Lack of Knowledge of Local Laws and Zoning Regulations
Before you pull permits, you should call the local zoning department where you are relocating your mobile home. Some areas only allow 20 years or newer homes, while others may have construction, snow, size, foundation, and wind rating restrictions.
Ask the local department about the setbacks on the proposed property, and if this is your land, you should know the distance the home should be from the property edges.
However, if the mobile home is being moved to an established home park, the park manager is likely to be aware of the setbacks and will be able to direct you and your mover to where the mobile home should be placed.
2. Lack of Referrals
Any unvetted mobile home transport companies can give you disappointments from theft to getting taken advantage of. Ensure you're working with a reliable, honest, and knowledgeable company when hiring a company to pick up, move, and set up an entire investment property.
Reach out to local mobile home parks and dealers and ask for their recommendations. Try at least three companies and try to get the best offers.
Moving your home using one company is the best, where most mobile home companies have their plumbers to make the utility connection and deal with your home's HVAC system.
3. Ignoring the Mobile Home Park Rules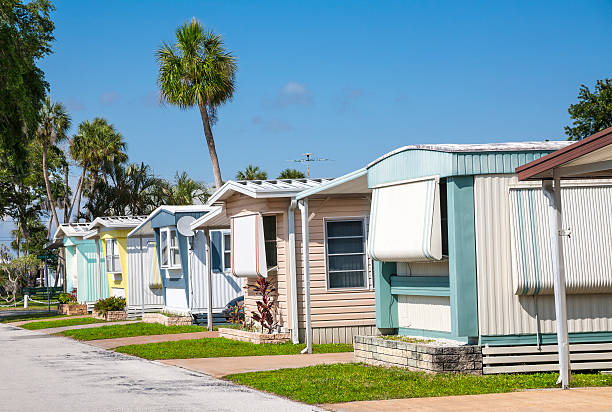 Image Credit: cedarspringsme.com
A single person or group generally owns most mobile home communities. These owners decide the guidelines and practices for relocation. If you're a mobile homeowner, you should be aware of the community needs for mobile homes to have or be:
Built after a certain year

A deck at all doors

Vinyl siding

A carport

Curb appeal and landscaping

Tongue and hitch removed

A shed
4. Failing to Pull Permits
Image Credit: mymhcommunity.com
Most locations will need mobile homeowners to pull permits when moving or setting up their homes in a new area. However, in some areas, you can move your home with little restrictions or red tape, while other counties and cities have size and age restrictions.
As the mobile homeowner, you must phone the local permit office and inquire. A connection permit for gas, plumbing, and electricity may also be necessary. Fortunately, many movers of manufactured homes usually handle this process for the owners.
Even if you're not relocating to a mobile home park that already exists, be sure to ask around for reliable plumbers and electricians.
Ensure you ask the movers which services are included in the moving contract as this will give you a good gauge of whether their company is giving you the utmost value for money.
Conclusion
Image Credit: BC Renovation Magazine
Are you interested in learning how to move a mobile home? We have provided plenty of information above to help you avoid common mistakes during relocation. So ensure you research, put all your energy and time into vetting your local mobile home transportation companies, and now you are ready for your move.
Image Credit: thebalance.com