Moving & Packing can be struggling for many reasons. One of the most ignored points is to pack your toiletries and cosmetics efficiently. Don't forget to make sure you have sorted everything out from your bathroom packing list that will leak or spill. If you are not careful, your carefully packed clothes could get wet with shampoo or conditioner. The good news is that it's not hard to do – especially if you read this bathroom essentials checklist and safely follow all tips mentioned below to know the best way to pack toiletries from our professional moving company!
Step-1: Sort out your bathroom items and toiletries for moving
1. Accessories & Appliances
Hair Dryers

Trimmers

Hair straighteners

Curling irons

Epilators

Electric razors
2. Paper & Female products
Toilet tissue

Sanitary pad
Fragrance (Perfume and deodorant)

Makeup cosmetics (Eye makeup, foundation creams, lipsticks, and others)

Skincare cosmetics (Skin lotion, essence, skin milk, cleansing cream, facial moisturizer, and others)

Cosmetic soaps

Hair products (Hair treatment, Hair dye, shampoo, and others)

Special-purpose cosmetics ( Shaving cream, sun screen, and others)
Toothbrush and Toothpaste

Sanitizer 

Body lotion

Soap and Liquid soap

Facewash

Mouthwash

Contact Solution
Foams and Gels

Razors

Aftershave lotions

Brushes
8. Cleaning chemical supplies and miscellaneous 
Washing liquid and powder

Toilet mat
Step-2: How to purge before moving
Most people have lots of useless bathroom items that they don't use. They can go in the garbage can! Start by going through all your restroom stuff and purging all the items that are no longer useful to you.
You don't need to pack the used bars of soap, shampoo bottles, sanitizer bottles, and toilet tissue paper that you won't use anymore in the future. If anything is left over, throw it out – the contents are not worth taking with you and could create clutter in your new home. You can hire a trash removal service then. 
Before you move away, make sure to use up any cleaning supplies or half-empty cosmetic containers. Just keep in mind that you will need some cleaning on your moving day, so don't forget these essentials!
Once everything is sorted into donation piles or trash bags, place them outside in designated pile areas so anyone who needs it will have access to these items. However, efficient purge medicine is a good practice indeed.
It's tricky to get rid of the expensive, fancy stuff that we're not using anymore. But you don't need to consider it a big hassle either! Instead, keep only those things–as well as quality cosmetics and other bathroom items–that make you happy to have around the new home.
Step-3: How to Pack Bathroom Items for moving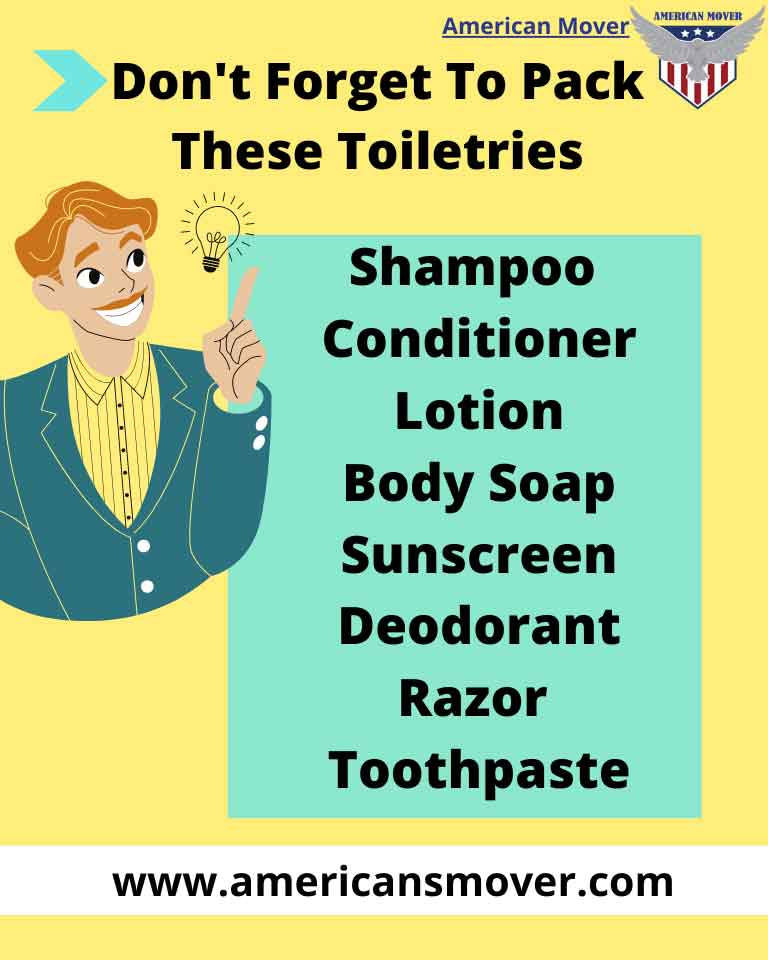 You should know how to efficiently pack all the things you need in your bathroom. For example, if you know how to pack effectively all the washroom items and each toiletries product, you will take less time in toiletries packing and shipping your stuff when you move.
Bathroom items should be packed in one suitcase or travel case. According to the following order, pack them from the largest and heaviest items first to the smallest and lightest last. Items containing liquids such as toiletries should not go near clothes because liquids can damage them when they leak.
Prepare a container just for small breakable things like bottles/lotions that can spill when moving by themselves. Don't forget consumables such as soap, shampoo, or toothpaste! Wipe down surfaces before leaving home, so dust doesn't get onto your belongings while packing (cold water works well).
1. How to pack makeup for moving
Before starting, create a makeup packing list at first. When packing makeup for a move, the most important thing to remember is that most cosmetics containers break as soon as they're opened, so don't wrap them. Many people like to put their makeup in a quart-size ziplock bag and use that as a container instead.
2. How to pack beauty products for moving
The beauty products can be layered – mascara, eyeliner, eye shadow layers and then coated with baby powder to reduce the risk of spills while traveling. Many accessories can also provide smaller compartments for different types of products if space is becoming an issue.
3. How to pack cosmetics for moving
Do you know how to pack up and move to another state with your toiletries supplies? First, make a bathroom stuff list to find out the easiest way to pack for a move. Then, according to your bathroom necessities checklist, make the proper use of the time to pack up. Finally, it would help if you decided what not to pack when moving. Packing toiletries become easy when you follow your bathroom toiletries list.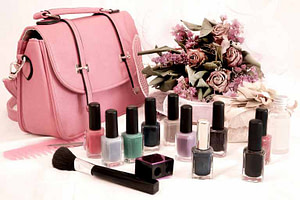 For skincare cosmetics (a sunscreen or moisturizer), these should have small jars or bottles for travel convenience. Certainly, it's necessary not to forget about hair products – combs, brushes, and hair ties go without saying! We recommend using clear sealable plastic bags because sometimes the items might change colors from reacting with one another inside the bag.
Women's cosmetics are best kept separately from men's clippers, hair gel, & beard trimmers (when different people need more than one set of these things). Women can also invest five dollars apiece for small makeup bags designed specifically to fit those items. Plastic wrap and standard packing paper can ensure the safety of your fancy hair products.
4. How to pack liquids for shipping?
Use toiletry bags that hold all your liquids. The plastic lining will prevent leaks and keep your other things dry. Carry them upright in a resealable bottle or collapsible bladder for ease of transport.  Start by dividing your shampoos, conditioners, and body washing fluids into one container each because these products are used most often.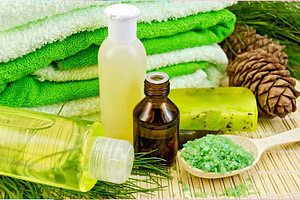 Organize accordingly to liquid volume – quart size is more significant than typically 8-ounce containers but less than 16 ounces. Then fill up the remainder of the space with smaller items like contact solution, mouthwash, lotions/creams by avoiding putting anything that can spill over into larger containers.
5. How to pack shampoo for travel?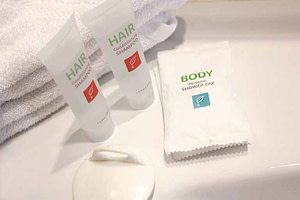 Pack shampoo and conditioner in their original containers (bottles, cans) to prevent spilling. Place bottles or cans upright in a stack the same height as the length of your hand down so that they don't topple. Roll up all your shampoos, conditioners, body washes, lotions, etc., into tubes to save space until you're ready to unpack them. Besides, you can also use shower boxes for shampoo and conditioner packing.
6. How to pack medicine for moving?
Medicine packing becomes an issue because anything liquid needs to be in leak proof sealable plastic bags or wrapped safely in plastic before it is put into luggage. Carrying medication in your luggage might be a bit complicated because it'll need room-temperature storage space and should be stored away from doors, zippers, sharp objects, or anything else that will transmit heat well.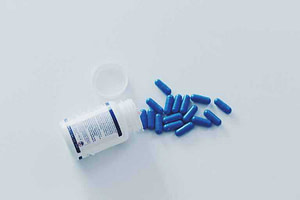 However, these packing supplies are designed for expensive equipment, so they usually work just fine with medicines stored inside cardboard moving boxes packed loosely. It'll be good if you throw away expired medicines too.
7. How to pack cleaning supplies for moving?
You can save money and use some laundry detergent, washing powder, and bleach that you are currently using to wash your linens. Some people do this to avoid needing a specific type of washing equipment. However, make sure you don't mix any bleach with anything other than water as it is hazardous.
Try not to wrap too much detergent as it will take up a lot of space in your bag and is heavy but packs great if needed, so make sure you have enough at your new place when unpacking. The same goes for all other supplies like soap or window cleaner, which you should take out once the packing process has been completed on-site and stored in suitable boxes properly.
8. How to pack accessories and appliances for moving
Start packing flat appliances at the bottom of a box, and then pack heavier fragile items on top of the box. Use packing tape to wrap them properly in place, and avoid packing so tightly that air cannot circulate between items. You can also fill voids with padding to better protect your fragile items from injury during handling.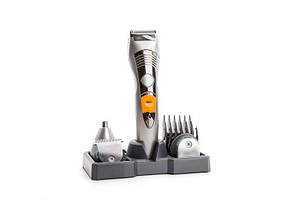 Consider protecting fragile hair products like hairdryers, trimmers, hair straighteners, curling irons, epilators, electric razors with cushioning materials before placing them in the box.
Plastic wrap cords loosely and tape them down so they don't become trapped by other objects inside the box—pack batteries outside of electronic devices to avoid damage to those devices if batteries leak while being transported.
9. How to pack your toiletries for moving efficiently
At first, you should have a clear idea about how to pack toiletries for moving. Now, What are toiletry items? If you know what to pack when moving, you will easily find out the efficient ways to pack. As a result, you will also know how to move efficiently with all your bathroom items.
Commonly used items in bathroom are another name for toiletries. Make your toiletries list for home. It's the best way to accomplish the toiletry products packing process.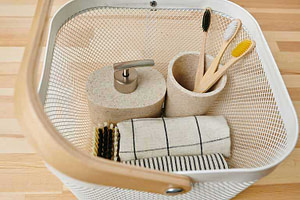 Wrap one or two travel-sized toothpaste tubes and a toothbrush during moving. Toothpaste could easily leak the plastic bags, though, so wrap it in clothes to prevent it from coming in contact with the other items.
When packing the inner pockets of your carry-on bag, the spaces are meant for smaller toiletries products like lip gloss and other little things. Fill them with essential toiletry supplies instead of anything else. It will provide a better level of organizing toiletries.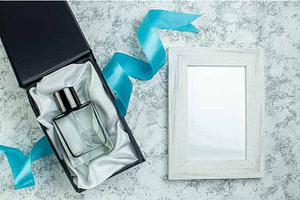 Perfume is one of the essential things to wrap when moving. It should be packed in a tightly sealed perfume bottle, deodorant can, or body spray bottle if it's travel-sized. Try to choose your favorite essentials in small packaging and take them with you on the road!
11. How to pack aerosol cans for moving
There are two ways to wrap aerosol cans of mosquito spray, pest control spray, or other pressurized items that could potentially explode if they get jostled while moving:
You can cover the nozzle with a plastic straw and place the straw through a hole punctured in the top or bottom of an empty coffee can. Place this over the nozzle and then put it in your box, inserting packing materials between the layers around it for cushioning as needed.

Apply labels to all items, and take digital pictures of everything inside the boxes.

When you arrive at your new home, you can quickly identify which toiletries items are missing.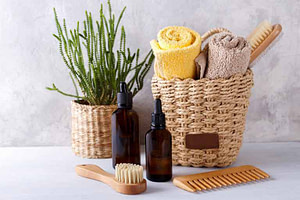 There are many ways to pack clean towels, but it normally depends on the size and shape of your box. Suppose there's plenty of space for a fluffy package, layer sheets of tissue until you reach the towel, and then finish by tying them with a string or ribbon for easy untying later. Try rolling up your towels and packing them in your luggage with some tissue paper folded inside, in case you have limited space.
13. How to pack sanitary & paper products for moving
It's vital to wrap toilet paper, sanitary pads, and a toilet mat for moving. The always handy roll of toilet paper is great as it can wrap around anything for an easy carry. Sanitary pads are also good to wrap, but make sure you use the "travel sizes" that don't have as many sheets vs. the five packs with like 500 each.
Toilet mats are excellent for first-time movers since the bottoms of feet perform better when stepping onto something than on bare surfaces. Plus, they're cheap, and you can throw them away in a trash bin if needed once you arrive at your new home!
FREQUENTLY ASKED QUESTIONS
How to pack nail polish for moving?
To pack nail polish for moving, you can use a Ziploc bag. It is cheaper and more environmentally friendly than buying new polishes to replace all the ones you need when you get to your destination. Plus, some places sell nail polish cheap or even for free at their local beauty store, so it may be worth checking before just buying a bunch of new polishes. Try to throw away old nail polish as it can be hazardous for you.
Will movers pack shampoo?
There is no standard that movers do not pack "shampoo"; however, most moving companies do not typically pack toiletries and other items like shampoos. Therefore, discuss this matter with the particular moving company before your moving day.
Will movers move laundry detergent?
Movers will not move laundry detergent because it is not their job to do so. It would be best to ask more specifically about moving your things when meeting with them since they have all sorts of equipment and services at their disposal, making the task easier and quicker for both parties.
How to transfer lotion from one bottle to another?
You can put the lotion in sealable plastic bags with the nozzle of an empty bottle and then microwave for about 15 seconds. However, after using it, carefully store it in the fridge. If that doesn't work, other alternatives include transferring the lotion by pouring it or adding small amounts of a thick fluid like honey to help grease. Once you stir up all the lumps of honey and lumps of lotion, your mixture will be ready to be transferred into your container without any hassle!
How to bubble wrap a bottle?
To bubble wrap all opened bottles containing bathroom essentials, you can use the traditional approach where you slice open the bubble wrap and place one side over the other on top of the bottom edge of your object and begin rolling.
How to keep liquids from leaking in luggage?
When packing liquids in your luggage, make sure to use resealable containers. It will allow you to ensure that the contents are sealed and ready for inspection at airport security.
How to pack boxes for moving?
Toiletries box is for packing the items you'll need during your move. You can buy toiletry boxes, or make them from cardboard or use those small, clear plastic containers they sell in grocery stores for eggs and cottage cheese. Label each one with the contents. Place moist tissues inside each box to keep things from clumping together. Toiletries that don't come in packages- razor blades, toothbrushes, toothpaste- should also be stored in separate containers before packing if possible.
How to pack liquid foundation for travel?
Use a bottle that has a pump dispenser, and put your foundation in that. You can also store it in an empty contact lens case or this airtight container if you don't have travel-friendly foundation bottles. Whatever type of container you end up using, make sure it's either leakproof or sealable with an easily detachable lid. This way, you can use your soap+water mix to wash the bottom of the container and any leftover bits of makeup on your sponge before popping it back into the box.
The tips mentioned above are the best to pack toiletries for moving. Whether you're going on a vacation or just staying at home, it is crucial to have these toiletries with you to maintain hygiene and keep up appearances. Use the best quality moving boxes and packing materials to complete packing up your bathroom products properly.
If you need help packing efficiently, we can give you some guidance about how much each item should go into which bag.  Besides, you can learn how to pack up a house fast from us as well. If you want the pros at packing for you, check out our free quote service. You'll understand how to pack for a move efficiently. Our company will supervise all your moving needs and show you the best way to pack toiletries for travel!