Have you thought about how you would pack your jewelry for a move? If you're not careful, you can arrive at your new house to discover your necklaces tangled up and half of your little jewelry pieces missing.
However, if you follow these DIY tips on how to pack jewelry for a move, your jewelry will reach your new home safely and undamaged.
Here are a few packing tips when moving in a hurry or how to pack an apartment in one day while ensuring that none of your valuables is left behind.
How to Pack Jewelry for a Move
1. Make a Jewelry Inventory
Making an inventory is helpful because you can compare the list to your present jewelry collection when you unpack the boxes in the new house. In addition, it's a good idea to get rid of jewelry you don't need anymore while taking an inventory.
Spread all the jewels on a sizable sheet of paper or cloth on a flat surface. Sort the jewelry into distinct groups according to type, with necklaces in one group, earrings in another, bracelets together, and rings in another.
To have a complete jewelry record, list every piece and take pictures. You can also use an app like Sortly to keep track of every item to prevent loss or damage, whether you are transporting costume jewelry or priceless jewelry.
2. Straws
Image Credits: diamondsinthelibrary.com
Want to prevent your necklace collection from looking disorganized? Thread the necklace through the straw until you reach the other end, then bend the straw to clasp the ends together. Straws are an affordable and easy method to pack necklaces when you're on the go.
3. Toilet Paper Roll
Image Credits: pinterest.com
A basic toilet paper roll may carry jewelry in a variety of ways. Bracelets can be fastened around the roll. Earrings can be firmly pinned into the cardboard. Additionally, once a necklace is strung through the cylinder, it can be fastened. Don't forget to clean the toilet paper rolls before using them.
4. Egg Cartons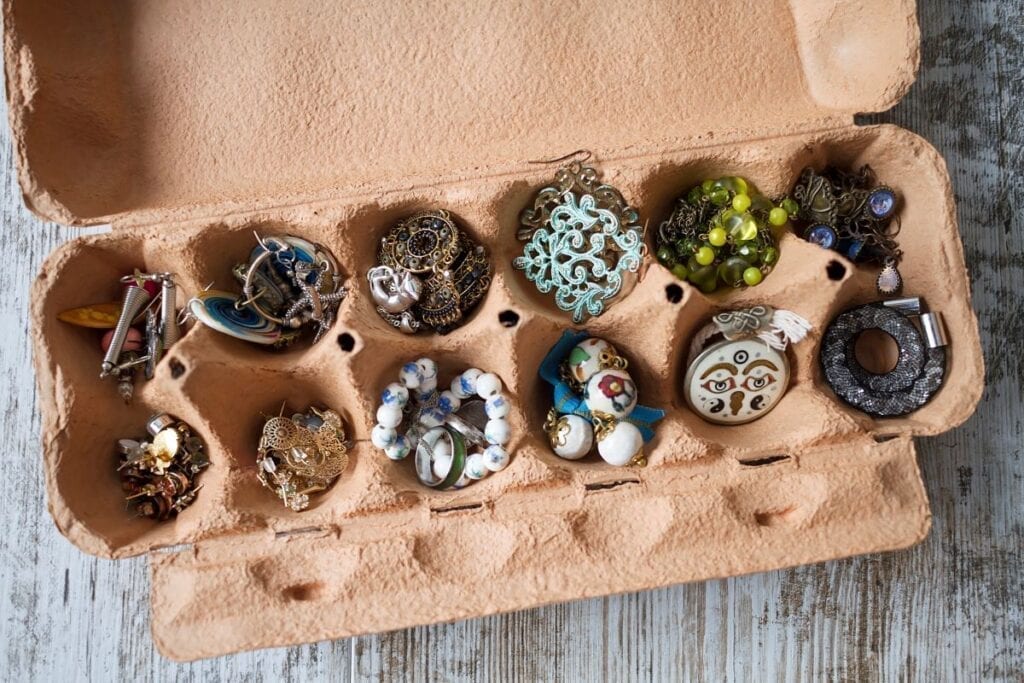 Image Credits: mymove.com
An egg carton makes an excellent, tangle-free movable container for necklaces. Thread the sides of the necklace through the openings in the egg carton's top, clasp it there and maintain the remaining length of the necklace inside the container.
You can then wrap the entire package in paper or bubble wrap, and you're good to go! The best feature is that numerous necklaces may be made in a single carton without worrying about the chains becoming tangled.
5. Plastic Wrap
Image Credits: youtube.com
You can easily wrap the container in resealable plastic wrap if your jewelry is already neatly arranged in a tray or bowl. It will be easy to unpack once you get to your new house; take off the plastic wrap and set the jewelry organizers as you see fit.
6. Buttons
Image Credits: pinterest.com
An easy, affordable way to pack earrings safely is using buttons. Both buttons and earrings feature two holes. Put the earring back on the other side of the button after simply inserting the earring post through the buttonhole. This is a fantastic method for organizing pairs of earrings. In addition, you can keep the buttons in an egg carton for more security.
7. Business cards
You can make holes in the middle of the business card for necklaces. After that, pass the necklace through and secure the chain at the opposite end. Finally, punch tiny holes into the card to put numerous pairs of earrings on one business card.
This method of transferring jewelry is economical and environmentally friendly because who doesn't have numerous unused business cards laying around?
8. Sandwich Bags
Image Credits: makingmamaskitchen.blogspot.com
When you relocate, you should store your bracelets in sandwich bags. Some bracelet chains can tangle with other jewelry pieces; if bangles are flung together, they may scrape. Use Ziploc bags to keep your wrist jewelry separately while it's in transit; once it's unpacked, you can reuse most of the bags.
Additionally, you can place the business card full of earrings in one bag, the rings in another in case the earrings fall out of the business card and all the bags together in one larger sandwich bag. Your jewelry will be arranged, accessible, and ready to go
9. Pill Organizer
Image Credits: www.movingsolutions
A pill case is the ideal storage solution for tiny jewelry pieces or cufflinks. Your earrings won't fall out thanks to the tight lids on a pill case, even when in a package that is moved around a lot. Additionally, your pairings will always stay together.
10. Sunglass Case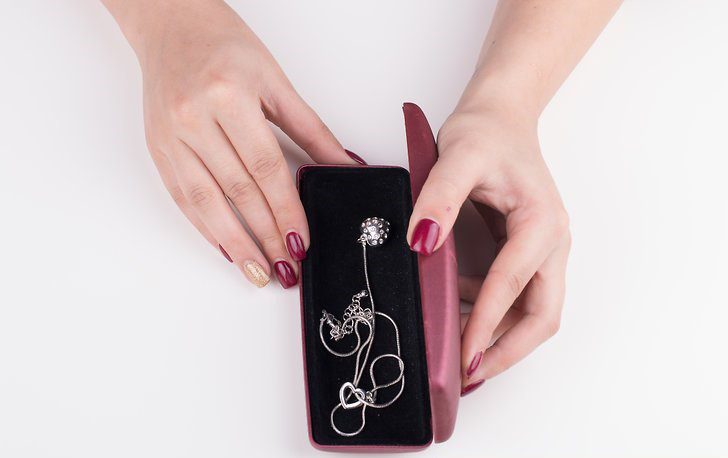 ImageCredits: bernardmovers.com
Please put your favorite rings in a durable case, such as a case for sunglasses, to ensure they are not lost in the hasty packing. Additionally, you can utilize the cardboard boxes from your subscription to makeup samples as short-term ring storage.
11. Hangers
Image Credits: pinterest.com
Large statement necklaces cannot be packed in jewelry rolls or pill cases but can be packed using foldable hangers. Wrap each one around a hanger and keep them in a container to secure them during transportation. 
12. Washcloth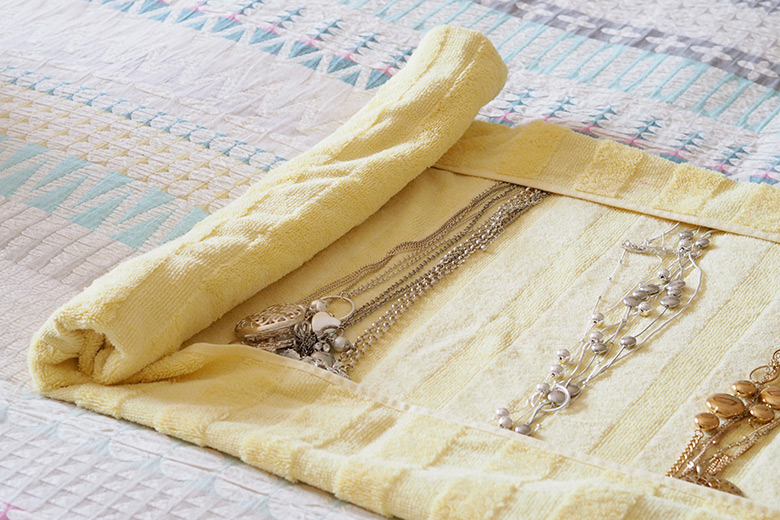 Image Credits: theorganisedhousewife.com
You may construct your jewelry roll out of a regular washcloth if you don't want to buy one and want to be a little more creative. First, arrange your jewelry items evenly on an extra washcloth. Next, place the washcloth, roll it lengthwise, and then fold it in half.
Remember to bind the washcloth with elastic bands on either side to prevent the necklaces from falling out. You wouldn't believe how easy and affordable it is to carry your valuables safely using washcloths.
13. Bubble Wrap
Lay each necklace or bracelet flat on a piece of bubble wrap before packing. Fold the edges gently, then use adhesive tape to secure them throughout their length. Roll the jewelry in the extra bubble wrap once it is fastened to protect your valuable jewelry adequately.
14. Jewelry Box
Image Credits: diamondsinthelibrary.com
Jewelry boxes have sections made to hold particular kinds of jewelry. Additionally, a lockable jewelry box adds a layer of security to your jewelry. Finally, there are numerous jewelry organizers available. Small jewelry boxes for holding a few pairs of earrings and a few rings fall under this category, whereas larger jewelry boxes include wider sections for necklaces.
15. Jewelry Roll
Soft jewelry rolls are ideal for carefully organizing your smallest and most delicate necklaces when moving. In addition, most rolls include a shield to prevent your jewelry from getting scratched.
Conclusion
Sometimes paying close attention to the little things can make all the difference while you're getting ready to relocate, for instance, learning how to pack toiletries for moving.
In addition to preventing the loss of a priceless piece of family history, packing your jewelry wisely can also help you avoid hours of aggravation. The tips above are quite affordable, and you'll appreciate your organization later when you get to your new house and unpack.
Here are additional general tips for packing and moving.
Featured Image Credits: www.movingsolutions